The Core of TTH – How we got the Trophy Trout bug!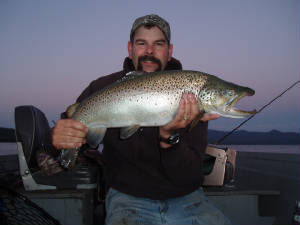 Ryan Daniels (aka Coyote): – I'm a native Oregonian from Myrtle Point. I began fishing with my dad for Steelhead on the Coquille River when I could barely hold a pole.  I began fishing for trophy trout in 1996 and have put countless hours in pursuing these incredible fish.  My first brown over 10 pounds was caught in 2010 from Crescent Lake, a 10 lb 4 oz male hookjaw.  My largest brown to date is a 13 pound hen from Paulina Lake I landed and released in 2015.  My favorite lakes are Wickiup, East, Paulina, Billy Chinook, and Crescent Lake (all in Oregon).  I graduated from Oregon State University in Manufacturing Engineering and am happily married to my wife, Robyn, and have a daughter and son, Madyson and Wyatt.  GO BEAVS!!!
Email Coyote @ coyotebrowntrouthunter@gmail.com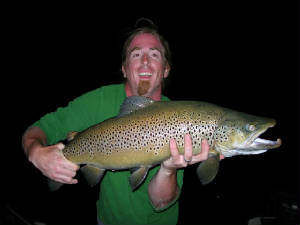 Dan McAllister (aka Hookjaw): I moved to Oregon as a 10 month old babe and sprouted permanent roots from the start. I became obsessed with fishing and the outdoors as a young boy under the influence of my dad, Jerry. After years of catching limits of planter trout, I got serious about catching trophy trout in 2000 and after much patience and dedication I found some consistent success. I have landed (3) browns over 10 lbs, with my biggest being the 11 ¼ lb hookjaw in the photo. My favorite lakes are Crescent and East. I have been involved in custom woodworking for 20 years and have a small, self sustaining shop at my home in West Linn, where I reside with my lovely girlfriend, Lynn and my beautiful 7 year old daughter, Ellie.
Email Hookjaw @ trophytrouthunter@gmail.com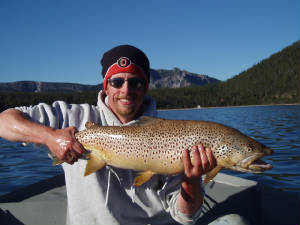 Brian Wildish (aka Bwild):  I'm a native Oregonian and been an avid outdoorsmen since I could crawl.  I've been pursuing trophy trout since 2005 when Ryan Daniels took me on my 1st trip to Crescent Lake.  2 months later, I purchased a boat and have been addicted ever since.  My largest brown is a 12 lb, 9 oz hen that I caught from East Lake in 2007.  My favorite lakes are East, Paulina, and Crescent Lake (all in Oregon).  I'm a graduate from Oregon State University in Construction Engineering Management and am happily married to my wife, Anna, and have a son, Jackson. GO BEAVERS!
Email Bwild @ bwildish@rhconst.com
Danny Lippis (aka Crazy D): – Born in Santa Barbara, CA, we moved to the Pacific NW when I was 14.  My Dad took us trout fishing at Tioga Lake in CA, great memories!  My fishing bug waned for many years until we did a trip to the Newberry Crater in 2008 and caught our first big German Brown, what a gorgeous fish…I was hooked!  Ever since then, we've been enjoying the pursuit of Browns on the beautiful lakes of Central Oregon.  Our largest brown to the boat is a 10 pound, 4 oz. hen from Crescent Lake that measured 29″.  Our biggest Hookjaw brown is 9.5 pound, 28.5″ buck from East Lake…we're most proud of that one  🙂  We also like to fish for Mackinaw at Crescent Lake.  My beautiful wife Carrie is my best fishing partner, she's got skills and has reeled in many of the big ones!  Our favorite lakes are East, Crescent, Paulina and Lemolo.  OSU Mechanical Engineering, GO Beavers!
Email Crazy D @ twowheelcrazy@hotmail.com